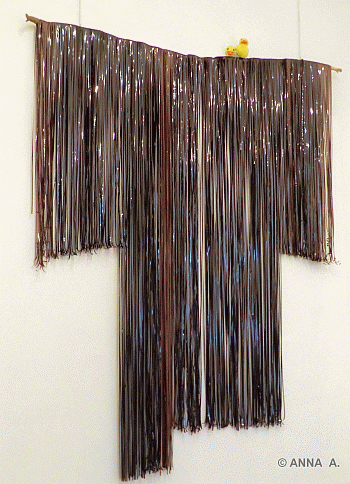 THERE WILL NEVER BE SILENCE: 4'33'',
2015
5 by 15 by 180 cm.
Magnetic tape, resin, textile, wood.

John Cage's most famous musical
composition reconstructed by ANNA AGTMA.


4'33'' was composed in 1952 for any instrument and the score instructs the performers not to play their instruments during 4'33''.
The 4'33'' interval purports to consist of the sounds of the environment that the listeners hear while instrument silence (in ANNA AGTMA's artwork plastic tapes of compact disks are removed and so the music/composition becomes
"silent"). 4'33'' is the epitome of Cage's idea that any sound may constitute music.
It was also a reflection of the influence of Zen Buddhism (kimono formed out of tapes) which Cage studied since the late 1940s.